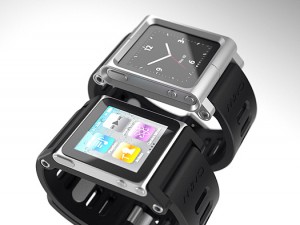 Crowdfunding – the notion of funding "something" by collecting funds from the crowd, is not new. Philanthropy has many such examples and 3 years ago, Barack Obama's campaign for presidency was an astonishing example of how it could become extremely effective. By some accounts, there are over 150 web sites that support various forms of crowdfunding.
My plunge into crowdfunding occurred a few months ago.
Let me tell you the story:
The Story

At 9:52am on November 25, 2010, I was sitting in my office and got a glimpse of a status update from one of my friends on Facebook. He had shared an article titled "iPod Nano Watchband Breaks Kickstarter Funding Records". This caught my attention as it sounded like a cool idea and I didn't hear of Kickstarter yet. As it turns out, this project managed to secure nearly $300,000 of funding within one week – but only from the crowd. No traditional sources investments such as angels or VCs were involved. I followed the link.
At 9:53am I learned what Kickstarter was and what the TikTok project was, in particular. I never thought of taking an iPod Nano and using it as wristwatch. Which itself was a cool idea. I learned of the concept of Kickstarter in which anybody can become a "backer" of a project by pledging various levels of funding to a project. At Kickstarter, there's a minimum funding required that's specified and all funds pledged are held in escrow until the minimum funding is reached. Once it is, the project is deemed funded and continues to attract backers for 21 days from its inception.
This crowdfunding was different than normal investment opportunities – instead of the backers becoming shareholders in the company, they are attracted to back projects by being offered something in return that they would value. In this case, it was pre-purchasing the watchband that would later be sold at retail at a higher price. So it was basically a discount and early access for early adopters.
I was growing even more curious. I tried to see if there were alternatives out there. By 9:54 I discovered two other Kickstarter projects trying to do essentially the same thing. However, their promotional material and videos were much less professional done. Scott Wilson was a professional and he created not only a professional product, but also professional material to promote his project fundraising.
By 9:55 I was convinced I would back it. I looked at the levels of project backing. There were levels between $1 and $500. By now, the $500 tier was already sold out to 100 people – this tier's reward included a limited edition red watchband hand-laser-inscribed by Scott, 10 watchbands to gift, and even one iPad Nano. So I settled for the $50 level, entitling me to what would later be sold at retail for $65. Not such a great savings – but at this point I wanted to contribute to this effort. I felt thoroughly engaged and excited.
I registered for the site and pulled out my credit card and used Amazon check out to pay the escrow funds (it was clear the project would be funded as it had by then raised over $300,000 – well over the $15,000 minimum it needed for funding).
At 9:58 after fumbling with payment means, I was proud backer of the Tik Tok project on Kickstarter! That was 6 minutes from becoming aware to chucking $50 for something I never needed before…
I had to leave my office for a team meeting, but a moment before doing so, I shared the excitement with all my friends on Facebook, connections on LinkedIn, and followers on Twitter, and left for the team meeting.
At the 10:00 am team meeting, I showed to my team the video that had convinced me to back this project and introduced them all to this fun and amazing concept of crowdfunding. It was a great topic for discussing the innovation in fundraising it enabled.
Back to my room at 11:00 am I had a meeting with some colleagues. One of which was a known gadget-lover, so I told him of my discovery. He was so disappointed that all the limited edition red watchbands were sold out. Within an hour, he too was a backer.
So, within 2 hours of receiving a Facebook status update, me and a colleague "invested" in something we never thought we needed…
What happened next
Following my funding I became subscribed to all the updates from Scott Wilson about the production, shipping, and many other exciting (and less so) interactions. There was a clear community created and lots of interaction direction with Scott and many of the backers (now thousands). Eventually this project secured $941,718 that came from 13,512 backers. That's from a project that would have settled for $15,000 to get off the ground. Obviously, one of the great things about crowdfunding is that if you are trying to create a new product, you're pretty much guaranteed there's a buying public for your product if you got it crowdfunded.
I've seen some amazing Kickstarter projects since – some truly inspiring. One that I particularly liked was the Loog Guitar but I also liked the vinyl record 3D puzzles and the GoPano 360 degree camera for the iPhone 4.
This raised for me a few questions:
Who else is doing this and how do they differ from each other?
Is crowdfunding more broadly applicable or is it just good for these sort of consumer-oriented projects?
What will this mean to traditional VC/angel investors and entrepreneurs?
So, let's take them one by one:
Who else does this and what are the differences?
Well, it turns out Kickstarter is not alone. Believersfund, Crowdcube, Sokap, Indiegogo, Wikipedia and many others are doing crowdfunding. So what's the difference between all of these? Let's check'em out:
These are merely some examples. There are many other noteworthy sites. The Chicago Tribune recently had some good coverage of the landscape and here's a whole book chapter up for peer review as well as another article about the topic.
Is crowdfunding more broadly applicable?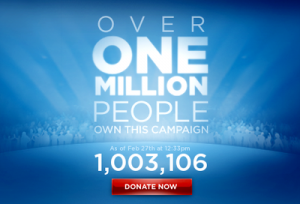 What I've learned is that thus far crowdfunding has been applied primarily to donations, to philanthropic causes, and to consumer-oriented products/offerings. It mostly involves getting "something" in return for the backer/contributor/investor. Often, it's something tangible, but there are cases where the contributor gets the satisfaction of contributing to a cause he deems worthy. Crowdcube and GrowVC are the exception of equity-based investment. However, I haven't seen strong evidence this model works. Also, it might be limited due to different legal and regulatory frameworks that would prevent ownership of interests being offered like this. In the US, for instance, I believe such an effort would be a form of an Initial Public Offering (IPO) and would be subject to significant regulatory obligations (and implications on the venture itself).
What are the broader implications of crowdfunding?
The level of investment that Tik Tok has managed to secure of nearly $1M rivals venture-backed initiatives. While Tik Tok might have been an exception – it's not alone. This gives yet another opportunity for entrepreneurs to consider for getting their ideas funded. If you are an entrprenuer and you have an idea that you can sell "pieces of" in terms of end product to consumer, you should consider crowdfunding as an approach to raise you capital. My advice would be to very carefully plan your campaign, however. Because while Tik Tok got thousands of backers, other similar projects failed to secure nearly any funds, let alone reach their minimum required funding.
The end of the story
In January I received my LunaTik watchband after tracking the whole process creation by getting frequent updates from Scott. Ironically, I have yet to get an iPad Nano to use it as a watch… I promise I'll have it on my wrist by the summer!
Update on May 22, 2011: I received a gift of an iPod Nano from a generous friend and now have the "watch". It is cool! But it cannot be my only watch because it is not waterproof, requires recharging, and I'm afraid to damage it.
Update on June 7, 2011: If this topic is interesting for you, you got to check my responses and additions as comments, below, with more information/links I've discovered.