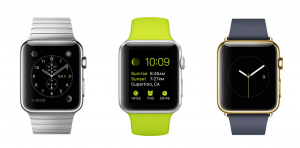 Last week, Apple announced their long-awaited Apple Watch. Having heard some very smart people suggest that Apple Watch is going to crush Basis, and many other existing players in wearables, I just had to share my 2 cents on this matter.
Bottom line: I think it won't have that impact!
Overall impression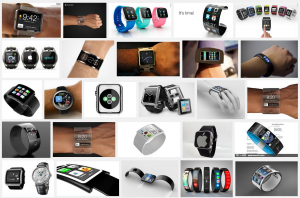 First, I'll say that I think it's really nice. It could have been nicer. Many of the earlier models leaked or anticipated looked even cooler. 
Apple chose a rather bulky watch with a wide assortment of bands and a very nice finish to make it customizable and befitting of one's wrist. The two sizes are a nice touch – allowing more women to also join the smartwatch era as a nice accessory. Its sensors and user experience are pretty good, but lacking vs. the existing and emerging competition. It's charging mechanism (serving as night stand as well) and water-resistance are similar comparing to the competitive landscape.  
Basically, I think Apple Watch is not going to have nearly the impact that the iPhone or the iPad had when they were introduced and evolved, in terms of its overall change-the-world potential. It is more like the Apple TV or Google Glass – that is, it is a technology showcase rather than a game changer.
Several reasons for my thinking here:
The price: At $350 (entry point), it is priced out of reach for many consumers. And, at this price, it even lacks many features available in lower-end watches from competitors (like GPS). This price is likely to remain high for a long time. Most other wearables and watches are going to be priced much lower and have broader appeal as a result.
Vendor lock-in: It relies exclusively on iPhone as a "host". This leaves out a huge portion of Android smartphone owners. Most people that are in the Android ecosystem wouldn't even be a potential buyer. Apple is essentially selling this into their existing customer base. 
Not a sleep tracker: (This is a minor point) Many of the fitness conscious-wearables are used to measure sleep quality. Since the Apple Watch will have to be charged nightly, it will not be able to serve this purpose.
Apple could hypothetically, easily fix the first two points above, but it's not in Apple's strategy nor nature to do this. Apple lowers price at $50/100 per year for their devices. Similarly, Apple doesn't usually opt for interoperability, especially with Android. It tolerates Windows, but not Android, as reasonable platforms for its stuff (e.g. iTunes).
So what will be the impact of the Apple Watch?
It will be very cool to own and it will draw a lot of positive attention, including "oooh" and "ahhh"s. People will want to get their hands on it and play around with it, for sure. Not sure that many will actually cough up the dough to own one, however!
It will allow developers to explore what's possible with it – and developers will exploit its potential and showcase many cool apps. It doesn't have a killer app yet – but it probably will – more than one. When this killer app gets developed, I predict it will be copied (or ported by its developers) quickly to other platforms – smart watches or other wearables. So the Apple Watch will become a "technology showcase". Yes, Apple will remain cool/hip and relegated by anti-fanboys. Nothing's changing here.
Therefore, I don't think this will assure our wrist will be reclaimed, but it does introduce that potential for the right app to emerge…
Personally
Even though my next phone is an iPhone 6, I doubt I'll have an Apple Watch quite as urgently… I actually tried a similar / older version of this – an iPod Nano-based watch in a TikTok wristband I helped crowdfund, and it didn't stick. I saw little benefit in using it. My wrist is vacant and waiting for the right product to occupy that space lost to the iPhone by my watch a few years ago…