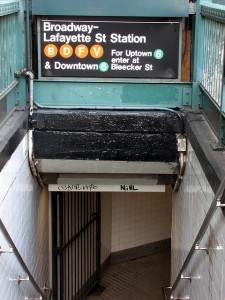 I love NYC. I also like getting around on subway – usually, it's very efficient. I don't like the heat nor do I like the crowds in rush hour, but generally, it's pretty good. Best thing is that it zips through traffic and is rather predictable.
However, when it's hot in NYC, as it was this week (and is most of the summer), the subway is not such a "cool place" to be. The trains themselves are air-conditioned, but the platforms are not. Other subway systems in the world dealt with this issue (usually in newer systems) – not NYC.
Anyway, on such hot days, going to a meeting, I'd usually just grab a taxi to get there "all in one piece". This morning, a Saturday, I finished a meeting downtown and as I'm about to head out to my hotel, I noticed that I'm directly at a subway station of Broadway-Lafayette with one direct line to my hotel. 14 minutes on the train, no exchanges, and I'll get to my hotel. It would be faster than by taxi and no need for walking either.
So, I with just minor hesitation, I venture down the steps for a quick hop back to the hotel. The temperature rises every step I take heading down to the subway… I get to the track to wait for my train. And I wait and I wait in the smoldering heat of the platform. The temperature was probably 90 degrees Fahrenheit (32 degrees Celsius) with 80% humidity, at least. Not fun. But, I'm relaxed and in no hurry. My train, the B train, doesn't come any time soon. I check all the notice boards to see if there are any changes in the B train – but nope, no notices.
R trains come by, and only R. No B. No D (R wasn't even supposed to get to this station!). So I get on the R heading uptown. A few stops later, it splits off East instead of West. I get off. I try to get back to a C or B train by taking an E train – yeah, this is getting complicated.
To cut a long story short, I end up spending 75 minutes underground trying to get back to my hotel only to discover that NONE of the trains that would get me there are working today. No announcement about that. Nothing.
Serendipity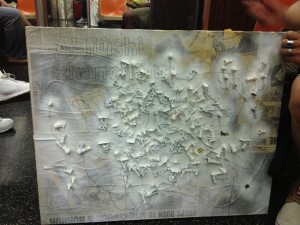 On the 3 trains I did end up traveling on to nowhere (all in different paths than they were supposed to) I met nice people, including a young artist named Peter Yip with an unfinished, yet beautiful, piece he's working on (see his site, I especially like this one). There was this lady that was having the same experience as I and were going through the same ordeal – and she's a local…
Overall, I spent at least 50 minutes on platforms in smoldering heat just waiting uselessly for the right trains to come, to no avail. All the announcements were terrible, and I quote: "A Manhattan-bound local train is two stops away". This announcement repeated itself 3 times in ten minutes – no trains arrived. It wasn't clear whether this would be the E train, or the M train (which were on this track), when a train finally arrived, it was the (damned) R train – that shouldn't even have been on this track in the first place. No announcements on the boards about E or M trains not working and what the heck was this R train doing here?
Mind you, I'm somewhat of an expert in this subway system – personal knowledge of years + armed with the latest navigation apps to boot.
Ultimately, I had to ask a subway DRIVER if the B train was even running today only to discover it wasn't…
So, after so long, and no ability to get to the hotel, I just gave up. I climbed the stairs up to street level (half way to the hotel, but still nowhere near), hailed a taxi, 8 minutes, and $9 later I'm at my hotel, glued to the air conditioner….
Bottom Line
Wow, was this a terrible subway experience. There was practically nobody to ask what was going on, no proper announcements, no proper notices, in all the several stations I visited, nor the trains I boarded, were there any notices of trains coming and stops on the path. Most trains already have these. Many stations too – just not my day in terms of subway luck! Add to that the heat and humidity…
Lessons learned? I'm not quite sure… Any ideas?