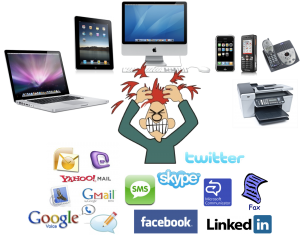 Have you noticed that the more means of communications we have, it appears as though we might be communicating less? To illustrate the problem, I created a list of my communication patterns.
Let's begin with the devices I use:
My mobile phone – an iPhone – on me all the time. Charged at night on my bedside, but silent and on my belt all day. It's connected to the Internet but only when I am traveling domestically (otherwise, it's occasionally connected on WiFi). Loaded with over 200 apps, including Mail, Skype, Twitter, Facebook, LinkedIn, Viber and many more communication apps. The phone has a voice mail that I check rarely – about once a month!
Roaming phone – I travel a lot, and no matter where I go, I carry a local phone for that geography. It mostly doesn't have a data plan and just serves for voice phone calls. This phone sometimes has a voice mail as well.
My tablet – an iPad – also with a bunch of communication apps such as Mail, Skype, Twitter, and more.
My laptop – with Skype, email clients (Mail and Outlook), and Microsoft Communicator.
My home desktop computer – running Skype and Twitter apps all the time.
My landline phone – home number for voice, an answering machine, and a fax.
All-in-one printer/fax/scanner – connected to my home line.
Now let's look at the various means I use to communicate:
Voice calls on all devices, my mobile phone, roaming phone, landline, and Skype.
Skype – running on almost all my devices, able to connect with me whenever I'm online – either with instant messaging or voice/video.
SMS text messaging on my mobile phone.
Email – I have at least 6 different email addresses, of which I check 4 quite regularly. Each has a different purpose.
Twitter – I'm quite active on Twitter, and use it mostly for loose and serendipitous relationships, but people reach me through direct messages or mentioning me and I engage.
Facebook – mostly for friends and family members.
LinkedIn – mostly for business contacts.
Microsoft Communicator – when I want to connect to business contacts in the company.
Comments on my blog – I read each of these and respond.
Fax – either at home or on eFax where I have a number for web-based faxing.
Google Voice – it dials many of my telephone numbers in sequence. But its prime utility is that it's a web-accessible voice mail service, as it most often doesn't really get a hold of me at the end. By the time it gets to the device I'm on at that moment in time, the caller already gives up.
I barely ever check voice mail and it's probably the least effective way to get my attention. I don't even check my home answering machine…
So, you might say that I'm rather well connected. Or am I?
I find it very tough to reach some people and some people find it difficult to get a hold of me for any meaningful communication – sometimes scheduling them weeks, if not months, in advance.
Am I the only one that's well connected? Hardly!
Talking to many people and observing many people, my situation isn't very different than most, actually.
Am I the only one with this chaos? Absolutely not!
I suspect most of you reading this have a similar chaos.
Depending on who you are and what you do, you have a different mix, but a mix it is. Folks younger than mid twenties might not use email as much as I, if at all. However, they would perhaps have ooVoo and ICQ running in parallel to Skype and Facebook. They'd be heavy users of SMS and Facebook chat and messages and wall posts or BBM and rely more heavily on mobile phones. Others would rely more heavily on voice communications. Yet others would be extremely heavy users of Skype or SMS or in-game chat or voice conferencing.
Not only are we using multiple devices and multiple means of communications, we often use them concurrently. It's not always clear to us which means and access points of communication we should use. For instance, when I want to get a hold of someone, I might try 4-5 different approaches, and more often than not, much of the effort is merely the "handshake" and coordination to communicate rather than any meaningful communication. We don't often consider how time consuming and inefficient all these handshake/coordination "communications" really are.
It might get worse. As Jacob Ner-David points out in his recent blog post, many of these written forms of communication sometime get misinterpreted and might create tension and conflict.  Most meaningful dialog and exchange of ideas really requires a dialog or conversation that cannot happen without voice, video, or even face-to-face communication. That's why physical meetings, conferences, parties, and many other events are invaluable and yet irreplaceable as human-to-human interactions.
So where is all this going?
Well, changes in these communication patterns take years. If you are old enough, you would recall that fax was a very significant form of communication that has since lost its prominence. Nevertheless, it is still with us. So new devices and means of communication enter more rapidly than ever (e.g. the iPad) but take a long time to leave us thereafter. So I expect we'll see more means to communicate before we'll see less. And most will be additive. Yet this chaos cannot continue to grow forever. It just doesn't serve us well enough any longer. I therefore envision that some of this chaos will be resolved over time by innovators. It simply doesn't make sense the way things are going. I believe that whoever solves this problem will do no less than help make the world a better place by facilitating better, richer, and more friction-free communication between people. Replacing "handshakes" with "communication" in the true sense of the word.
Don't get me wrong, I'm not suggesting that all use of these capabilities to communicate are the same. Sometimes, use of these tools might be considered "pseudo-communication". For example, young people might use public instant messaging and wall messages rather than more direct communications because they want to appear cool, sexy, or even fake. Also, there's a significant difference between business and personal communications.
What is your most annoying aspect of this communication chaos?