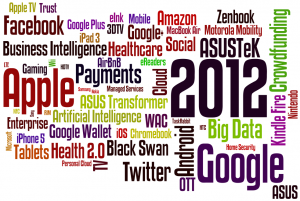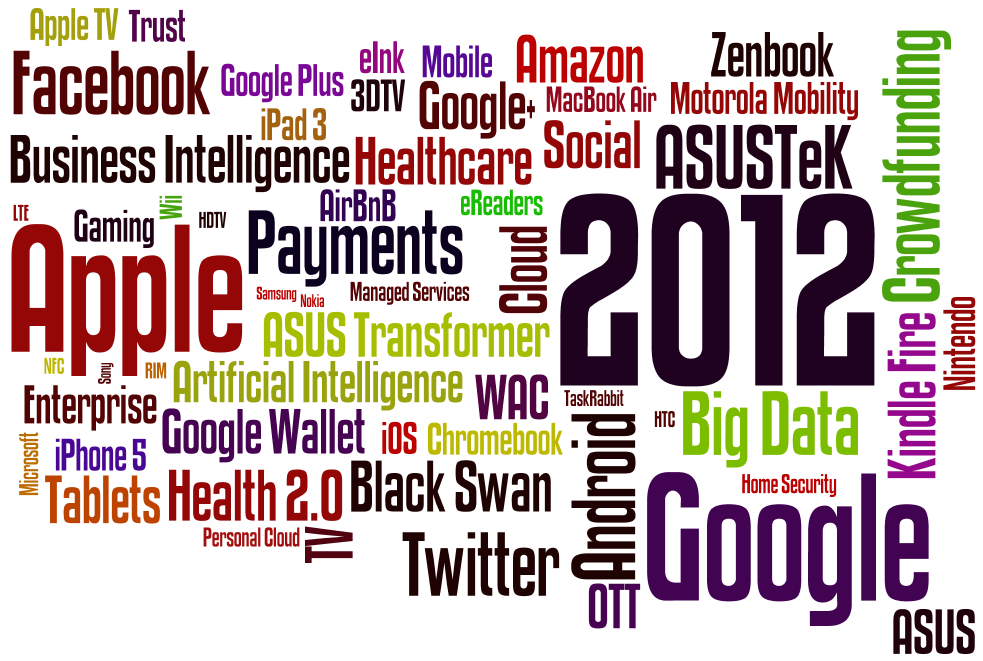 For the past 5 years I've been privately tracking the accuracy of my predictions, I must admit that my results have been pretty good. For the last two years I've been publishing annual prediction podcasts within Amdocs called DoxCast which, together with Adi Lachman, I've co-created and co-hosted. DoxCast gave me an opportunity to be "on the record" with my yearly predictions – for 2010 and 2011. My accuracy on these is 77%. With these results, it seems appropriate to start a new tradition on my blog – annual predictions for the year to come. Without further ado, here are my predictions for 2012 in no particular order:
Apple

iPhone 5 (yes, this time it will be called "5") will arrive Aug-Oct 2012, unlikely sooner nor later. It will have a new form factor, with NFC (and a payment ecosystem!) as well as LTE. I'm not sure about anything else, but those would be the highlights of the device.
iPad 3 will arrive March-July 2012 and might include a 7" companion (which would match the Kindle Fire and other Android tablets). It may not change form factor at all! So it would add retina, better processor, LTE, etc. – mostly under the hood. It might be called 2S – but that name doesn't sound snazzy enough for Apple. An accessory to the iPad (such as a native keyboard) could be added, but there's not much more people are really expecting. Nevertheless, they will have something cool and new. It will not be 3D nor a radically different display technology.
TV – They may come out with a new TV experience – including possibly a TV. If Apple does come out with a TV, it will get rave reviews, and few buyers. This is because the the market for TVs is very different than that for handheld or portable/mobile gadgets. TVs are replaced much less frequently and people just went through a huge replacement cycle due to flat panel and HDTV. While it might redefine the experience, Apple's TV set will not be a huge commercial success nor disrupt the industry – as it has done to many other industries. As an add-on appliance (e.g. Apple TV in its current form), it does have an opportunity to redefine the experience – and if that's the form factor to build upon, Apple does have a chance at disruption. It's no surprise that today the Apple TV is difficult to even find on Apple's web site – it's buried under "iPod". It's not yet a big push for Apple, at least not yet.

Mobile:

RIM breaks up/dies/collapses. They have lost their way and this might be inevitable.
Android continues to thrive. No surprise here. However, nearly all the money in the industry goes to Apple. What I mean is that the ecosystem remains so fragmented, that nearly no company eally makes big money on their investments except Apple. True, the OEMs like HTC, Samsung, and others do have sales – but with dramatically weaker margins.
Microsoft/Nokia partnership makes some headway, but not enough to be significant vs. Android/Apple. Developers don't flock to this platform, still in 2012. They would create Web Apps that would work on it. The overwhelming majority of developers for mobile will target primarily iOS and Android.

Tablets

Amazon Kindle Fire is a huge hit – already seen. But it will continue into 2012. The price point and value are great.
eInk becomes a niche technology and starts lowering sales or stays flat despite historically low price points (eReaders at the end of the year will likely be priced at about $50)!
We'll see more form factors explored, like the cool ASUS Transformer, which I predict will have commercial success due to its unique and functional design.

Google

They will not YET kill Google Plus in 2012 (like they've killed so many things in 2011). Google Plus is struggling to become a "destination" – a place people live, like they live in Facebook. It has millions of registered users and it's integrated into many of Google's assets – so it may become more part of the fabric than a destination. But it isn't really causing a dent in Facebook nor Twitter.
Will sell off much of Motorola Mobility – this will prove to anybody not yet convinced that this acquisition was all about the patents Google needs to try to defend the Android ecosystem it has created.
Will make a big push with Chromebook tied to good nationwide 3G+ network. This is one cool device – while it did go commercial this year after a beta, the big push will be 2012.

Telecom

Nothing much will change. This industry is becoming slower by the minute in its abilities. Just more speeds and feeds. Even less control over the devices/services that run over their network. Some seemingly desperate efforts to become the "center" of something.
WAC, developed the "telecom way" will not sway developers towards developing for the ecosystem.
Biggest pushes will be managed services – for businesses (cloud/data centers) and consumers (home security, etc.). Both of these might see some traction – depending highly on regional market and execution.

Social will continue to permeate our lives with many new things happening, such as AirBnB, TaskRabbit and many others. Lots of eCommerce that once didn't succeed will now become successful because of the "web of people" created by social networks. Trust becomes possible through the user rating system and "real people" behind the transactions. This enables the many visions of the dot com bubble to finally become feasible.
Cloud will become the dominant deployment architecture for new services in 2012. It will no longer be considered "an alternative" but rather the "default", even for enterprise app deployments, towards the end of the year. The enterprises will go with private or hybrid (public/private) clouds this year.
Payments: 2012 will be the year of mobile money – with lots more push in this domain – even in developed countries. We'll see Google Wallet really begin to expand, as well as competing solutions. Lots of activity here. A clear winner may not yet be clear at the end of the year, though.
TV battleground:

No significant change in landscape, except one important previous prediction will be realized – most cable and satellite providers will have or will have announced plans to stream OTT (over-the-top) content to the TV, including web, YouTube, etc.
3DTV continues to move very slowly (as I've predicted earlier). Interactive TV continues to slowly percolate the market.

Gaming will have no fundamental change in landscape, though it's expected that at least Nintendo will come up with their new device to succeed the Wii.
Enterprise environment: The biggest investments will be in: Big data, business intelligence, and "smart features" – things that used to be called "artificial intelligence" – being put to use on enterprise data and transactional systems.
Healthcare: I believe social and big data will have a huge impact on medical research and healthcare as we know it. Already we're seeing the signs of this happening – but 2012 will have more in the revolution of Health 2.0.
Crowdfunding: Big year with lots of success to the crowd-funded model. Kickstarter is just one of tens of companies trying to do something in this space. I believe the legislation in the US will finally pass to allow greater use of crowdfunding. Currently there are competing US legislation proposals for equity-based crowdfunding, so it might take a while, but once this hurdle is crossed – and even before then, crowdfunding is bound to pick up even more steam in 2012 and be a funding vehicle for many more startup ventures.
ASUSTeK truly becomes a consumer brand to be reckoned with. Clayton Christensen, author of The Innovator's Dilemma and the de-facto creator of the term "Disruptive Innovation" explains in this Keynote at a Gartner event recently, how ASUS grew over the years. In 2011 we are finally seeing the "in-your-face" innovations from ASUSTeK in the form of the Zenbook – an ultrabook to compete with the MacBook Air and the Transformer. Both are terrific and I believe will lead the company to more commercial success this year.
I'd love to hear your feedback on these predictions. Please comment! If you have key predictions I've missed, point them out.
Based on my predictions, it's not clear that 2012 will be very exciting. Perhaps, I'm missing a Black Swan or two… can you speculate on what might be a Black Swan for 2012?