Since the iPad was announced on January 27, people immediately started asking (and answering) the question: "what will happen to Kindle and eReaders?" And since the iPad became available in April 2010, many have been putting those questions to the test. Most recently, Amazon completed porting their Kindle application to a wide variety of popular devices, now including Android, and came out with the new Kindle DX.
So here's what I think about iPad/Tablets vs. Kindle/eReaders:
It's not going to be a slam dunk – eReaders are not going to completely vacate the scene for the iPad to replace them. They will coexist. Dedicated eReaders, with their E Ink are still best for reading outside during the day – the iPad's screen makes this very difficult. Since reading outside is an important reading environment, eReaders cannot completely disappear (here is a photo comparison).
Dedicated eReaders will be priced between $50 and $200, and few, if any, will survive at prices higher than this. This will allow them to exist as a separate category, and it will take a few years for Apple to reduce price of the iPad to this price range.http://www.givoly.com/comparing-outdoor-readability/Android-powered tablets (from LG, Nvidia, and others), iPad competitors, will likely battle head-to-head with eReaders in the lower price range. That's why, the recently announced Kindle DX is practically DOA (dead on arrival). Even though its price dropped immediately, it is still too expensive (at $379).
iBookstore will not succeed like iTunes has. Kindle will win the book distribution business. This is actually much more important to Amazon than the Kindle device itself. Amazon and its Kindle application ultimately win. Kindle app might not be quite as"pretty" as iBooks app, but overall, it does provide a better book reading experience.
Applications like Zinio and PressReader will make the iPad a terrific device for reading magazines and newspapers – something neither the Kindle device nor app nor ecosystem are particularly good for.
Why I think this way?
Amazon was the innovator that made eReaders work – technically, and commercially, where others had mostly failed. It brought the Kindle to market creating the eBook business almost single-handedly. Amazon succeeded thanks to the huge eco-system of publishers that made it the world #1 book seller, very smart pricing/licensing with $9.99 best sellers, and because the Kindle worked completely independent – over the air. Amazon partnered with mobile operators completely hiding the "network connectivity" experience from the customer. This made impulse book buying easy – you could buy a book wherever you were whenever you wanted it. You could sample a first chapter and then pay for the rest, right from the Kindle device.
All seemed good for the Kindle, but any product/service can ultimatley be replaced. And now, the market has changed in two important ways:
Dozens of competitor eReaders are now crowding the market at prices of $100-$200. All with eInk, some with WiFi connectivity and some with 3G, some with their own book stores and some just sync with any book you bring in, most use the open ePub format.
The iPad came out, and it (and other tablets following it) is setting new expectations: that eBooks are, well, no longer just 'books'. Making it quite clear that an eReader, is really just good at being a 'reader'.
The Core Problem with eReaders
The eReaders came to succeed thanks to both E Ink and Amazon's ingenuity in figuring out a working formula. E Ink is a technology that barely consumes power, since it is not backlit, which also makes it much easier on the eye compared to a glaring display. It's very much like the technology we used to play with as kids – Etch a Sketch. Energy is required to draw and redraw the page, but not to display the image once it's there. So eReaders can work on very limited battery (required only to flip pages and browse/download books), and therefore, run a very long time between charges.
E Ink is both the chief advantage and fundamental problem with eReaders. Due to its very nature, it must be static. Energy is required to change what's on the display. It also takes more than half a second to blacken the entire screen before the new page is displayed on it. It's very annoying.
This makes very difficult – nearly impossible – to do anything dynamic with E Ink, such as video, animation, scrolling, cursors – or anything with color. This means it's not good for web browsing or any kind of dynamic or image-based content (video, games, animation, and more). Therefore, it's also very poor for magazines, which are usually printed on glossy paper with gorgeous imagery – all totally lost on E Ink. Yeah, you can read the text, but that's pretty much it.
It's like comparing an old monochrome CRT screen vs. a colorful graphical user interface. There's simply no going back. Or is there?
For all but avid readers, the iPad will replace the eReader
The iPad is not just a reader, it makes you fall in love with it upon first touch. So the question is, why would you carry around another, dedicated eReader? While there are some exceptions, most will prefer a tablet such as the iPad to a dedicated eReader. The tablet is a terrific eReader – if it has 10+ hours of battery life, it is good enough for the overwhelming majority of the reading public, despite the active display. I, for one, have read several books on my iPhone and iPad, and it is great. It has advantages over E Ink and paper – I can read in the dark and there's no crease. The Kindle application on the iPad makes buying and reading books offered by Amazon very easy. The most serious problem for the iPad seems to be reading outside. If this is where you read, the iPad will do you no good. For some avid readers, this will be the reason they stick to eReaders.
So what will happen with all the new eReaders?
Very simple – most will fail. This is unfortunate for many companies that have invested heavily in their success. These are the consumer electronics manufacturers and the book retailers. Tens of eReaders were announced in January 2010 at CES, almost all of them will not survive 12 months. The market of avid readers is simply not big enough for them.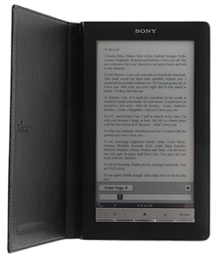 The category of eReader will, in my mind, be a range of $50-$200, which is well below a full-featured powerful tablet, such as the iPad. This is almost half the price of the recently announced Amazon Kindle DX. There are many eReaders in the $100-200 range today, which will keep the competition fierce in this space, and prices at bay.
So if the dedicated eReaders fail, and eventually even the Kindle device itself, how is it that Amazon (and its Kindle) still wins?
Amazon was wise, and developed application versions of their Kindle – first for the iPhone, then the iPad, and more recently, Android and Blackberry. This approach makes it possible to buy and read books from Amazon regardless of the end device. It also works on both Windows and Macs.

But wait, didn't Apple announce iBooks and iBookstore for the iPad? Yes. But Apple's approach will be less successful than Amazon's. Even though both applications are free, and even though the iBooks interface is gorgeous (and slightly better than the Kindle app), this isn't enough to beat what Amazon has going for it: the wide variety of books (now over 620,000!). The iBookstore has a much more limited selection. While it may grow, it will cost them critical ramping up time before it nears the vast offering available from Amazon. And by then, it will be too late to become the preferred channel. I recently tried to find several books I wanted to read from iBookstore, and ended up havin to buy them all through the Kindle app instead. While the Kindle device will ultimately displaced (for the most part) by the iPad and other devices, Amazon will continue to win by being the dominant seller of eBooks – for a rapidly growing number of devices.
When I say "displaced", I do not mean "eradicated". eReaders, such as Kindle, will continue to exist for avid readers, especially those that often read outdoors. However, for the overwhelming majority, an iPad (or tablet) will serve as their reader. The iPad cut into the eReader market, reducing their overall market potential, which has also become very crowded.
Two Questions Remain Open:
How will we read dynamic and colorful content outdoors? No existing technology handles these particularly well. Perhaps there's an opportunity.
Book format is still an open issue. It's not clear whether Kindle will ultimately support ePub, or if we'll have a long-term duopoly of ePub and Kindle – and whether all books be available in both formats. But either way, Amazon Kindle app is not going away any time soon.
Bottom Line: The Kindle is dead, long live the Kindle (Application).
Either way, Amazon wins!
Others have discussed this topic, though I haven't seen many bold predictions. Here are a few good reads on the topic:
What do you think?