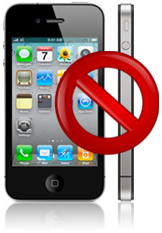 The iPhone is now more than 3 years old. I love my iPhone (and my iPad). I'm still on my 3GS, after going through the original iPhone (2G) and the iPhone 3G, and awaiting an opportunity to get the iPhone 4. I seemed to think almost anybody could benefit from an iPhone as their main mobile communication and computing device. So while I understand why all people don't have one quite YET, it surprises me from time to time when people tell me it's simply not for them. It's not that they are waiting for a particular feature – they claim that they will not want an iPhone EVER.
That got me thinking: why are these (otherwise intelligent) people so dead set on NEVER having an iPhone? So I asked them about their reasons. It turns out some of them are due to misunderstanding. They are unaware that the iPhone can do what they want or has a perfectly usable alternative way to do the job. But some reasons are more real and permanent.
So here are the dozen explanations I got for why these people claim they will NEVER have an iPhone (in no particular order), along with whether I see this reason as real or imagined, and why. While it might seem like I invented some of these reasons, I assure you that all of these are actual responses I've gotten from people I've asked.
It might seem like I'm doing market research for Apple, but that's not the case. I'm genuinely wondering why people think they will never have an iPhone, which I think is a terrific device.
| | | |
| --- | --- | --- |
| # | Reason | Real / Imagined |
| 1 | iTunes: I don't want to be tied to using iTunes to organize my music. I want to easily manage it just the way I want. I bring in music from a variety of sources and want to manage it with other programs. | Real. Probably permanently. |
| 2 | Upgradability: An Android device would be easier to keep up to date and upgrade. Since it's open source, I'll be able to pick and choose to upgrade as and when I want. | Imaginary. The iPhone is probably the easiest device to keep at its current version or to keep up to date with software versions. |
| 3 | Keyboard: I really need a physical keyboard to type on. The lack of one is really tough for me on the iPhone. | Real and likely permanent. However, I type very quickly on it and think it's terrific and more discrete than a physical keyboard. |
| 4 | Cost of repair: The device might break and my local carrier provides no insurance policy for the iPhone. However, they provide it for any other phone. It costs a lot to repair and the device is very expensive, so I cannot afford the risk. | Real for those affected, but may change based on the market. |
| 5 | Not a good phone: All I need is a really good phone and I've heard the iPhone isn't. | Arguable. I think it's a great phone. Others claim otherwise. I mostly use Bluetooth or speakerphone, but even the earpiece works for me and I don't get more dropped calls than before. It's even better as a general communication device when considering SMS, email, social media… |
| 6 | Not good for business:  The iPhone might be a great gaming platform and "toy", but it's not good for business use. | Imagined. iPhone works great with enterprise mail (especially Exchange) and has many business applications. |
| 7 | Die-hard PC: I've been with Microsoft all my life. I feel like I'm simply not an "Apple person". If I quit now and choose an iPhone, I would be admitting I've been wrong for years. | Real, but only in your mind… (unless you speak a lot about the topic) |
| 8 | Price: The iPhone is more expensive to own than the other phones I'm considering. | Real, but it will probably be temporary. Apple continues to drive down price and has older models to help close this gap. |
| 9 | USB connection: The fact there's not a standard USB connector. I want things standardized. | Real, but this may change: Apple has agreed, together with the rest of the handset manufacturers, to go to micro-USB standard – though I don't know how fast, if at all, this will happen. There are also a bunch of accessories that would be hurt by a change in the connector |
| 10 | BBM: My "gang" is all on BBM (BlackBerry Messenger). This is the key communication device they use. I would be disconnected. | Real. Perhaps an application workaround would be developed. |
| 11 | Flexibility: I want to be able to install anything on it. The iPhone is a closed system, it doesn't allow you to install any app. I want to be able to quickly develop and try things out on the phone. | Hmmm. That depends: If you don't jailbreak the phone, there are some apps you cannot run. However, 95% of the apps I use are from the App Store. For a developer, the Android provides more flexibility, for sure. |
| 12 | Memory extension: I cannot extend the built-in memory. | Real. However, I don't think this is a biggie as you can get different memory sizes and more and more we'll have our data in the cloud. |
What I didn't hear
I was a bit surprised not to hear serious complaints about the lack of Flash support. However, behind some of these reasons given you can see that the "closed world" of Apple has some vehemently opposed to embracing the iPhone.
So what does all this mean?
You might wonder why all this is interesting, as there are few, if any, products that are good for everyone. Well, the iPhone just happens to be one of those that have a broad appeal – as it does fit an awfully wide array of uses and people. The fact that it might not be good for some will continue to drive a healthy competitive landscape, continued innovation and will keep Apple on its edge. These are only a few reasons why people consider other devices more relevant for them – there are probably others. For Apple's competitors, it would be wise to extend their advantages on the more permanent issues that are unlikely to change in the near future. And for Apple, it would be good to help correct misinformation, and even close some of the gaps where they exist. Of course, even with all that, some people will never convert.
As always, I'd love your feedback.
Especially, I'd be interested in hearing why YOU think you would NEVER have an iPhone.