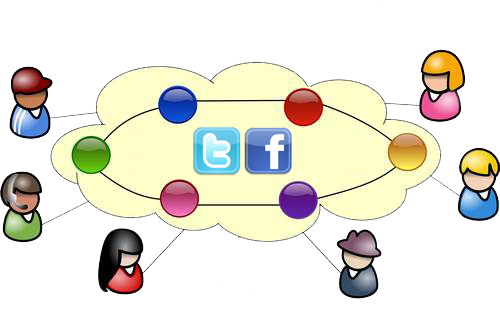 This blog post is going to be a little bit different than the past few posts. This time, I really need your ideas about a topic that's been on my mind for a while. I'm just going to tee up the discussion and ask you all to help with ideas.
I've been giving a lot of thought to the tsunami of social media, and in particular, that of social communications, and its impact on communication service providers – in particular, on fixed line and mobile operators. Social communications are the communications facilitated by social media, especially in the form of Facebook and Twitter, but also LinkedIn, YouTube, blogs and talkbacks. While social media impacts all businesses – which I'll touch on briefly – the sector which is most affected by social media is the communication service providers whose core business is providing means of communications and connectivity, mostly paid services. Social communications are obviously competing with and are possibly disruptive to the business of communication service providers. With this in mind, I pose the following question:
What should communication service providers do in order to mitigate the impact or even benefit from the evolution of social communications?
Impact of Social Media
Social Media has an impact on any business, brand or enterprise. For one, the voice of the customer has now been amplified dramatically. A great example is the case of United Breaks Guitars. Dave Carroll took a United flight and filed a complaint after his Taylor guitar was damaged by the airline due to mishandling.  After failing to be compensated by United, he wrote a song and published a YouTube video (if you haven't seen it, it's a must-see video) about his experience. It had an immediate impact that spanned far beyond the online world and reached millions within days. It's a fascinating story that was even the subject of a Harvard Business Review case study that clearly demonstrates that the voice of the individual has been greatly amplified by social media. This is not a lone case, there are many others. People talk publicly / in social media, about brands, their experience with products and services, and all these experiences receive a much greater attention than they would otherwise. If, in the past, one would share one's experiences with friends, today one can easily share one's experiences with the world, and if the message is "viral", it can have far reaching implications.
Additionally, Social Media, and in particular, Facebook and Twitter, have also become a "means of communication with companies". Companies set up a fan page or create applications on Facebook. They also have Twitter identities. Individuals now post messages on the walls of companies or tweet these companies. Most of these discussions are, effectively, in the public domain – so anybody can listen, chime in and share. This means that companies need to appropriately handle these new channels of communication – both for inbound communications received from customers and outbound communications in terms of brand and marketing messages. This is an entire domain in and of itself, which I'll discuss in a future blog post.
Social Media and the Nature of Social Communications
Many of the implications of Social Media can be said to be common to businesses in general – but the impact for communication service providers is likely to be much more significant. A few weeks ago I was a speaker at #140conf event in San Francisco. My topic was "Telecom and the Evolution of Social Communications". #140conf is an amazing series of events created by my friend, the unstoppable Jeff Pulver. The first was organized in the summer of 2009 in New York. Since then, there have been at least a dozen such events and meetups around the world – in London, Los Angeles, Barcelona, Tel Aviv and other cities. I had the great pleasure to present at a few of these events. Each is different from the other – in particular, in the amazing "characters" one meets – which keeps things interesting and always inspiring. This was a follow up to a talk I gave titled "Twitter vs. Telecom: Friend or Foe?" back at #140conf in New York in April. In that New York talk, there were about 300 people in the audience, but I realized very quickly, nobody was looking at me. They were hearing me, and they were "present", but they were busy typing away at their iPad, iPhone, Blackberry, netbook or laptop. They weren't just "taking notes". They were all in communication. They were engaged in a lively communication with about 50,000 people around the world on the same discussion topic "#140conf". In the ten minutes I was on stage, tens, if not hundreds of tweets were communicated between them.
What I observed was not the sort of communication that is facilitated by the traditional telcos and mobile operators – the communication service providers. It's very different. How is it different?
It was mostly not one-to-one – most of our traditional forms of communication are between a calling party who calls a called party. Yeah, we have telephone multi-party meetings or teleconferences. But these are not the most common types of calls.
It was mostly all text and some pictures – instead of voice. In a conference like this, it's still rude to just pick up the phone and have a voice conversation.
There was a very high volume of communication very rapidly – everybody could read many more perspectives and chime in more rapidly. During the event there were many thousands of messages going by, sometimes exceeding 100 messages per minute in this one "discussion".
It was an open discussion – anybody could join in and it was a discussion in a public forum. People got pulled in because someone they followed had engaged in the discussion or shared parts of it.
Perhaps, most importantly, no money was being exchanged – it was all free. Twitter and Facebook are free services. The broadband internet access was free WiFi provided by the venue. No traditional communication service provider saw a dime from all these communications!
But, this was certainly "communication" – though different than before. Obviously, we had and still have many free means of communications – Instant Messaging such as ICQ, "email", VoIP such as Skype. But, but in these cases, you usually know who you are communicating with and you direct the communication to those people. We also have group communication such as IRC, mailing lists, and talkbacks on blogs – but there, it is mostly topic-specific – you join / participate in a particular discussion and you have to go to where that discussion is taking place. With social communications, there is a combination of these forms of communication whereby people create real-time interactions that are both topic-specific, and more open ended – it's both peer-to-peer, and multi-party. It's all in real-time and without moderation.
Until the prevalent use of social communications, participants physically at a conference could only communicate with each other during the conference breaks. Now they communicate any time, and also with many people who are not physically at the event itself.
Another community that is clearly affected is teenagers. Many teenagers practically "live online" and communicate with each other using various instant messaging platforms or even Facebook almost exclusively.
So, what's the problem with this?
No problem, it's terrific. It is liberating and provides people with a lot of freedom to communicate ideas with each other. Except if you are a communication service provider and you make a great portion of your income by selling the means of communication and connectivity – mostly telephone calls and messages. Social communication does not merely supplement traditional voice and SMS communications, it also replaces some of it. How much of it, is not yet clear.
It's true that all communication service providers are now also generating income by providing many other things – ranging from the devices themselves to broadband access to value added services. All these will indeed be critical enablers for the ubiquitous connectivity of the relatively near future – so there are many other avenues to make money other than telephone calls and messages. But they are still very important to the service providers.
Some service providers are taking action
A few weeks ago, Richard Martin asked in his blog post whether service providers can do social media. I believe that this will vary between service providers and by geography – in some places, there are such opportunities, but in others, they've already missed the opportunity – the means of social communications have already been established. In that case, the only option sometimes available would be to "buy in". Telefonica made just such a move to own a controlling interest in the "Spanish Facebook", Tuenti. They now own a leading means of social communication in the country. An excellent IBM study Richard cites claims that "Social networking Web sites and services have become primary communication media for a new generation of digitally aware consumers, competing with traditional telecommunications (Telcos) for "share of voice."". Now it is no longer this "new generation".
Some service providers have tried a few things, such as integrating social communications in some manner or another with the traditional forms of communications. One of the most notable examples is Vodafone 360, announced a year ago, that attempts to integrate social media into the personal phone experience. However, most of these attempts have not been particularly successful. From talking to many service providers, I can say that the disruptive impact of social communications is not yet clear to most.
Now it's your turn
So, here's where I am looking for your help. I have a few ideas, but am looking for more:
What can communication service providers do to mitigate the impact of social communications on their business?
What can they do to benefit from the evolution of social communications?
Please add your thoughts and let's discuss! Also, if you are aware of a "best practice" about how to mitigate, benefit from, or leverage social communications by service providers, write about it here.