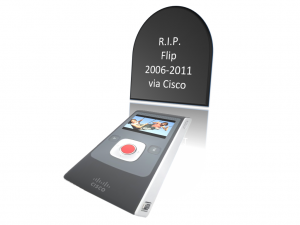 Cisco is not a happy place to be these days. Last week, when Cisco announced they would be cutting as many as 11,500 employees, or 15% of their 73,408-strong workforce, I was reminded of the earlier step they took last quarter, when Cisco announced it would shut down and discontinued Flip, pink-slipping 550 employees. You might recall that Cisco acquired Pure Digital, the manufacturer of the popular Flip digital camcorder, for $590 million back in 2009. Even then many observed this was not a great fit.
Why did Cisco buy Pure Digital?
Acquiring Pure Digital was likely part of Cisco's attempt to become instrumental in shaping the future of video and enter the consumer electronics market. Cisco had tried for years to diversify into products that would be used directly by consumers. It acquired both Linksys (that makes consumer and small business networking products), and Scientific Atlanta (a leading manufacturer of set top boxes), as part of this pursuit.
However, by trying to diversify in this manner, Cisco tried to do what few, if any, have ever succeeded in doing – which was moving from a complex-system business model to a volume-operations model – and simultaneously moving from a business-to-business sales to a direct-to-consumer sales. Either of these is difficult.
Cisco has been very successful in selling networking equipment to large enterprises and service providers – and that's what it does best. In case of the Linksys, analyst Zeus Kerravala of Yankee Group said he found it a "little bit odd". While successful strategies are sometimes "ahead of their time", in hindsight, it would appear that Zeus actually got it right.
A bit about the Flip
The Flip revolutionized video recording. It created and dominated a category onto its own of no-frills compact camcorders, portable, and always with us with good enough quality that were dead simple to use. At prices that began at $100, one could have a camcorder in their pocket at any time ready to shoot. This was very disruptive to the manufacturers of camcorders at the time. It became the #1 selling camcorder in on Amazon in the US before it was even covered by any serious camcorder review! One could hand out Flip's to kids in school projects. A great example of how they were used can be seen in this TED talk by Chris Anderson where he talks about how the web powers global innovation, particularly via video (see all or from 16:24). Flip contributed to vast amount of user-generated-content on YouTube and other video sharing web sites.
Flip's market challenge
However, since its acquisition by Cisco, Flip faced increasing competition from:
Me-too competitors: Flip's success drew attention of many that created very similar devices by Kodak, Panasonic, Samsung, Sony, and others. It became exceedingly difficult to distinguish Flip from the rest of the pack.
Smartphones: The ability to easily record video had come to all smartphones. The iPhone 4 and most new smartphones have HD video recording capabilities that are as good as many Flip models. The smartphone is always with us, so there was arguably no more need for a separate device for video recording alone.
It wasn't clear how Flip would distinguish itself and retain its market leadership. In order to overcome these challenges, an independent strong leadership with a very strong consumer focus and dedicated team would be required. However, Cisco would not provide this environment.
So why did Cisco fail with Flip?
Peter Jon Shuler has alluded to part of the answer on KQED. Peter explained that "…the Flip was undone by still cameras and video cameras becoming standard equipment on smartphones…" and that Cisco's big mistake was that "…the Flip didn't change much from its original design…" However, this isn't very different from how many large corporations fail to leverage companies they acquire. Ironically, until recently, many considered Cisco as one of the best companies in terms of success in acquisition. So why did it fumble so dearly this time?
The answer, I believe, is synergy, or, more precisely, lack thereof.
This is not merely a case where a large company acquired a smaller company and didn't invest sufficiently in their product or in their integration with the company. I believe, that from the outset, the lack of synergy was so profound that it must have been extremely difficult to reconcile the differences. Without a sustained and dedicated focus on the consumer space, Flip's leadership could not evolve their products rapidly enough. Merely dealing with the post-merger integration would distract them enough to render them incapable of coping with the onslaught of competition to the niche that they had created.
Epilog
There is one thing to lament about this failure – and this is a key question – did Cisco try to first spin off the acquired asset and the Flip unit? There are several natural consumer electronic companies that might have had an interest in acquiring Flip from Cisco, as Flip was still a strong consumer brand. Cisco could have lost much less than it ultimately had. Not to mention the loss to the users of a viable product/technology biting the dust. As it went down, closure of the Flip was nearly a complete write-off. Cisco's bottom line would have been much better had they not been hasty.
While I don't have inside information from Cisco, I dare suspect that Cisco had not carefully explored this opportunity before taking this drastic measure to improve their short-term results.
Therefore, it is possible Cisco fumbled as many as three times with Flip:
By acquiring Pure Digital in the first place.
By not allowing them to focus on effectively competing in the market they had pioneered.
By shutting them down without fully exploring the possibility to sell them off or spin them off.
Wider implications
Getting back to last week's announcement of even deeper cuts and layoffs at Cisco: If I were a shareholder in Cisco, I would like to know whether an earnest effort was made by Cisco to spin off or sell the units and products it is now shutting down.
So enough with my thoughts, what do you think?
How do you use the Flip?
Would it still be able to compete in the environment that exists now?
Was it market forces that killed Flip or Cisco's lack of synergy?
Did Cisco seriously consider selling or spinning off Flip or these other assets they are now shedding?