A few years ago, I was excited for every new disciple I brought in on the "TED-secret". Now, that it is no longer a secret and most everybody knows about it, I want to suggest a new concept: The TED-talk-a-day diet. This is a diet of continuous learning and inspiration, in digestible portions. You know TED Talks are great – why not make them a permanent part of your life?!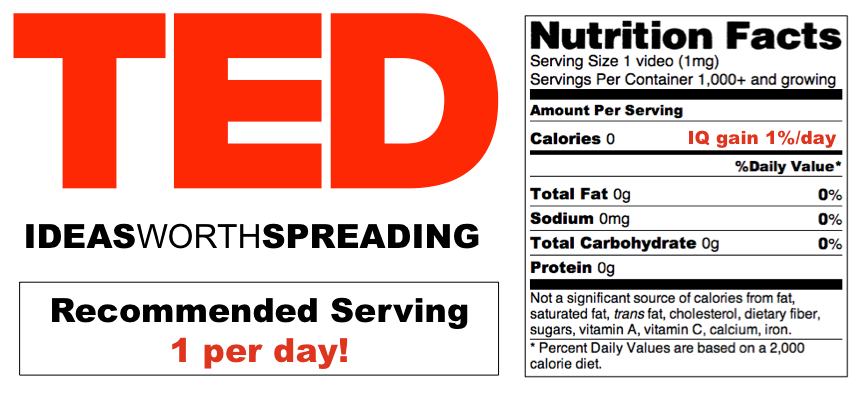 What's TED
(skip for most)
If you are asking yourself "what the heck is this TED Tal keeps talking about?" Realize, you are a minority, let's fix that promptly: TED began as an annual conference with the most amazing people and speakers, and it has evolved to a global series of conference/events (often called TEDxSomething). Each TED event brings amazing speakers for talks of 3-18 minutes. The 18-minute TED format ensures it is full of inspiring content, forcing the speakers to deliver their best performance. Most of these TED Talks are online and available to all at www.ted.com. In fact, TED Talks were recently viewed over 1 Billion times.
My TED experience
I made it a habit to exercise (on a treadmill, for instance) with a podcast version of TED videos playing from my iPhone. TED's motto, "ideas worth spreading", is inspiring in and of itself. I helped organize a weekly screening and discussion of TED and a live video broadcast of a TEDx event for an auditorium of people that couldn't be physically present at the event.
Ubiquity, quantity, and quality of TED
Now that there are more than 1,000 TED Talks (and thousand more from TEDx events), you'll never run out of amazing and inspiring talks. They're available online and you can watch TED Talks in so many different ways: within a the web with a browser, using the TED app on the iPad, iPhone, or Android, as a podcast, on the TV as an app in nearly every TV-app environment, and probably more I haven't experienced. Also, they are piece-meal size – so you can watch in a short taxi ride, on the train home, while exercising, and many more. There are also many ways to find the talks that might interest or inspire you.
Introducing the TED-talk-a-day diet
The idea is very simple: consider for your 2013 New-Year resolution (around the corner) to make a TED Talk a part of your daily diet. What do you have to lose? Not much more than 18 minutes. But I can assure you; those 18 minutes may inspire your entire day, and even change your life vocation. So head on now to make sure you always have some TED Talks with you (iTunes podcast, for instance, or downloaded within the TED App for iOS or Android). Don't consume them all at once (you can't, even if you tried) – just make it a manageable part of your daily routine.
You can get started today
So here are 5 great TED Talks to get you started:
There are so many more, you can continue on this diet for a very long time.
One more thought – Inflight Entertainment
I'm writing this post on a flight and realized that aside from my downloaded video podcast TED Talks, there's no TED-channel on the inflight entertainment system. Hey, United (and other airlines), that's an idea to consider!
So, what do you think about this new diet? Are you going to adopt it? If you do, share your experience. What are your "must watch" / favorite TED Talks? Let us all learn and be inspired!