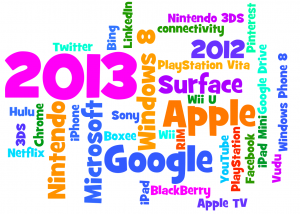 Continuing the annual tradition: Last year, my predictions for 2012 turned out to be remarkably good with 85% accuracy! That's even better than the 77% accuracy of 2010 and 2011 predictions. If you want to check it out yourself, here's the scorecard.
I loved the video summary Google did for 2012. I actually didn't mention many of these developments. So surely you must consider my predictions not "all that will be", but rather, what will be within specific areas that I'm focused on. Obviously, there's a lot more going on that I don't touch on.
So without further ado, my 2013 predictions:
Apple:

iPhone 5S – Again, this summer, June-August. No change in form factor. Most improvements will be "internal" and in software and ecosystem – not in sheer device capabilities. Could be cosmetics, like colors. It could even be perceived as somewhat of a letdown. Not a prediction, just a small comment: The iPhone 5 is an amazing device with its power, size, and weight. However, I really don't like how it scratches so easily on sides and back. The iPhone 4/4S was much more durable in that respect. Apple may fix these aesthetic aspects while maintaining the same form factor.
iPad Mini will get a Retina-rated display, and a stronger processor around April-October 2013.
Opening up iOS a bit more – given the Maps fiasco, I think Apple may allow replacing the default application to open for maps, mail, browser on the device. This is somewhat unlikely – so it's not obvious it would happen. But it wouldn't be too difficult for Apple to do. Especially now that Steve isn't here. This may make Chrome and Google Maps even more pervasive on this platform.
I think a real Apple TV will come this year. I predicted it for 2012, but 2012 was too busy with the iPad Mini and the lightning port and two iPad versions, so I think it will be this year.

Microsoft:

Windows 8 will be a success. It's a very nice OS.
Surface with Windows RT will also be doing pretty well this year. I really don't like the touch keyboard, but the physical key keyboard is terrific. A real laptop alternative on the go. Better than an iPad for most serious work.
Windows Phone 8 – Also, a big mover this year. I think it will take a chunk out of Apple growth, but it won't stop iOS nor Android from having another great year. It will be the 3rd OS – giving even more options for users.
Overall, I'd say Microsoft innovation is "back". They are going to do a lot of great stuff.
Bing – no change. Will continue to be a distant 2nd place, but may move up a notch. Right now, Google has 80% of worldwide search and Bing has nearly 10%. I don't think we'll see Bing get over 13% during 2013. Here's the trend over the past few years. Quite steady now.

Google:

Search dominance continues.
Online video dominance continues.
Online ad dominance continues.
Browser – Chrome continues to grow, from 24.5% market share to about 30% market share during the year. This eats into FireFox and IE marketshare, mostly.
Chromebook – probably doesn't make it. The push I expected in 2012 didn't happen and I'm beginning to doubt that it will resurface in 2013. So this year I'm actually predicting Chromebook doesn't have much news or progress.
Google+… – It doesn't seem like it's going to grow dramatically in 2013 except organically. It's not becoming a destination in and of itself. Just a tool to improve other Google products.
Google Drive – great traction here. Google remaining a dominant cloud player.
Research projects – we'll continue to see great stuff here. Cannot predict exactly which of them will make a splash/dent.

Games:

Nintendo Wii U will NOT be a huge success. Yes, it will sell. But it's not a Kinect-beater. Two reasons – price and complexity. The experience is too complex. Immersive, but not nearly as immersive as Kinect.
Microsoft Kinect continues to dominate the console market – taking marketshare from Nintendo and Sony. It's just a better overall experience.
Nintendo is also suffering from the smartphones on the portable platform, with continued decline in NDS and N3DS usage.
Sony continues to falter on handheld platform – no way to beat smartphones or even Nintendo 3DS with PlayStation Vita that followed PlayStation Portable.
Basically iOS and Android rein in the portable gaming field, and  Microsoft move strongly into a lead on the console side.

Home entertainment:
Mobile:

RIM, manufacturer of Blackberry, continues to fail. Perhaps it's breakup will be in 2013. I incorrectly thought it would be 2012, but I think RIM will be unable to recover and someone will acquire its assets and user base. Two things RIM could have done, and may still do to save itself: Become a virtual carrier for roaming business users or move to Android (or Windows Phone) platforms as its prime OS. It may not save it completely, but it could slow its decline.
I already made predictions about Android, iOS and Windows. No other OSs are likely to be important in 2013 on a global scale.

Ubiquitous Connectivity:

As I predicted earlier, I still believe that by 2019 we'll have about 10mbps access affordably and globally from wherever we shall be. That's 6 years away now. To this end, in 2013, I predict Internet connectivity will return to over a quarter of domestic flights and will exist in over a quarter of land-based public transportation (trains/buses/subways). I don't have an easy way to measure this without a lot of research – but if someone knows how to find the stats, let me know.

Social Media: No huge change in landscape.

Facebook continues to dominate.
Twitter continues to grow.
Google+ too. But not a destination in and of itself.
LinkedIn remains strong.
But apps to try to make it all more meaningful does emerge. Pinterest? Possibly an additional service ramps up during the year. There's still room for improvement and an innovator is lurking to make use of these vast networks on top of their authentication and mechanisms.

Health:

Amount of innovation in Health related topics is accelerating. Social web + smartphones + tablets are going to bring a lot of new innovation. It's hard to define how to measure this, but I see it all around us.
I predict that you're going to hear great things about a small new startup: Medivizor. Await more great news from that small company…
Even though these predictions aren't wild, 2013 will be another exciting year. As we all saw, 2012 was pretty amazing.
I'd love to hear your feedback on these predictions. Please comment! If you have key predictions I've missed, point them out.
UPDATE: Eli pointed out that I missed the recent sale of Motorola Mobility's Set Top Box business, and that's about 20% of Motorola Mobility, so the score is actually 86% prediction accuracy.