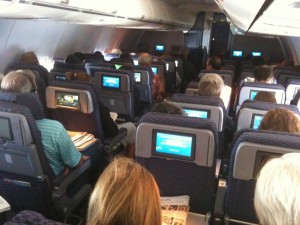 My very first blog post was about my experience with Internet and phone service on planes, and its early disappearance. Now inflight Internet service is reappearing, at least in US domestic routes. The point I was making there was that airlines are experts at pricing airline tickets, maximizing yield. However, they couldn't figure out how to price and market telephone and Internet service inflight. Well, it seems like not much has changed, at least on some airlines.
I travel quite a bit, mostly on Continental (now in the process of merging with United) – which I mostly enjoy. This morning I boarded an early morning coast-to-coast Continental flight of over 5 hours (and I was not upgraded). Each seat, even in economy, had a nice-looking entertainment system with over 90 channels of DirecTV satellite TV as well as several movie channels and more. The passenger sitting next to me commented upon arriving at his seat and seeing the system: "now that's the way to fly!" Little did he know…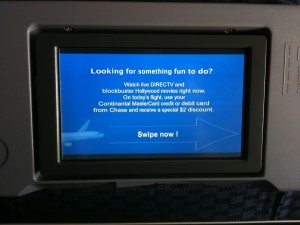 Well, a few minutes into the flight, the "preview" was over and it became clear that in order to continue using the entertainment system, one needs to pay $7.99. I had a lot of work to do, so went directly to my work. My neighbor also decided not to pay for the entertainment and dove into a book.
He was not alone.
A couple of hours into the flight I walked around the cabin and it was quite striking to see that nearly no one had actually paid the $7.99 to turn on the entertainment after the preview. In fact, mid-flight, I counted only 3 out of 138 passengers had paid for the entertainment service. By the time we landed only 11 of the 138 passengers ended up "caving in" and buying the service to relieve their boredom at a price that at least 8 of them first felt was more expensive than they would have liked to pay.
It became obvious to me that while this was the ideal flight for the airline to sell the service on (a long daytime flight), and should have been the most profitable for this sort of service (one that has no incremental cost to deliver), the airline was not maximizing its yield – not by a long shot.
So, was it worth it?
This service generated a grand total of $87.89 on this flight. That's less than a single ticket, of course. However, on the flip side, the airline also had 127 (92% !) disappointed passengers. These passengers first became aware of an exciting service, played around with it, and eventually decided not to use it because they deemed it too expensive. I consider this a bunch of negative publicity for the airline.
I decided to try to infer a price-sensitivity curve from this "sample population" and see what might have been the right price for this service had the airline wished to maximize its revenues. Continental might have thought that it could potentially make as much as $1,102.62 from this flight (138 x $7.99). But it actually grossed a mere 8% of this potential. So I made some reasonable assumptions and developed this price-sensitivity curve: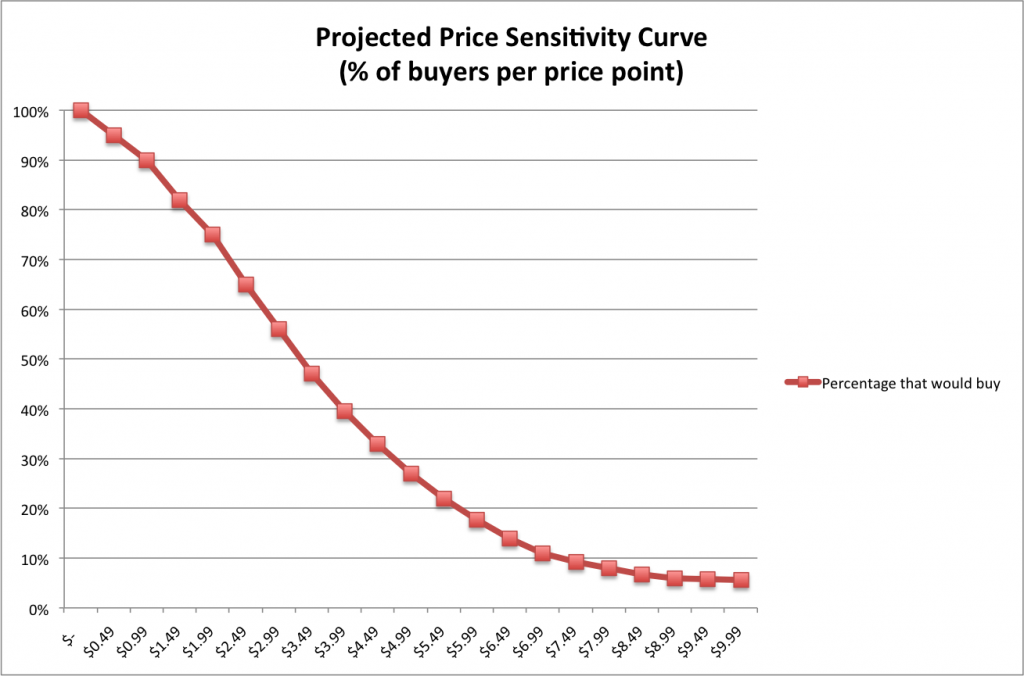 Also, I estimated that each person that didn't buy the service actually "cost the airline" an estimated $1.50 "worth" in negative publicity. This is a bit arbitrary, but there was certainly a disappointment felt by those that did not buy the service because they felt it was too expensive. Indeed, I overheard some passengers saying that they should have flown JetBlue in order to avoid this "silliness" as they called it (there the service is free). Hence a cost of negative publicity should be associated with all those whom chose not to use the service. So I drew up this chart with "total" revenue and "net" revenue per price point. Total revenue is the gross proceeds while "net" revenue considers the negative publicity: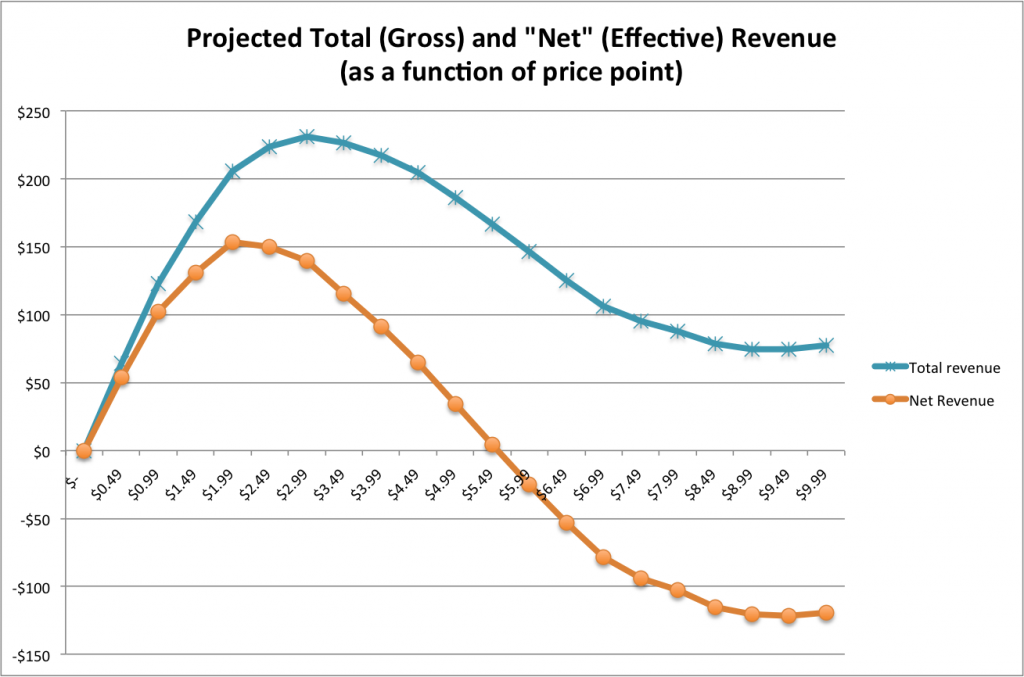 Conclusions from this analysis
So this is what I came up with as my projections given the behavior I observed and my estimates:
The maximum nominal total revenues would have probably been reached if the service were priced at $2.99. At that price the airline would have made $231 (which would be $143, or 163%, more than they had actually made).
Considering the negative publicity, a price of $1.99 would have maximized the "net" revenue at $153. Consider that at the price the service was actually charged ($7.99), I estimate the airline lost $103 due to the negative publicity. So $1.99 would have boosted the "net" revenue of the airline by $256!
In any case, a better pricing for the service would have been $1.99 or $2.99. Far from the price the airline charged ($7.99). Could Continental have raised the perceived value of the service to generate more revenue? Perhaps. But given the publicity and awareness the passengers were exposed to, these are probably better prices for all involved.
Bottom line
This service has significant capital and operational expenses. I doubt the service is profitable as it is. It should be no surprise to anybody that prices matter. Researching the price sensitivity and making in-flight observations of behavior might have led to a more reasonably pricing strategy. I am not an economist, this is just common sense.
However, there is a counter argument to this: Airlines have gradually stripped many of the in-flight services we once took for granted, such as meals, drinks, pillows, blankets, earphones, reserved seating, and more. People are perhaps reluctant to give anything to the airline beyond the airfare and would rather bring their own food, entertainment, pillow and blanket with them than pay any sum to the airline. If that's the case, my projected price sensitivity might be dead wrong. But then again, with the App-buying culture, I've become accustomed to paying small sums for apps. So, for me, paying $1.99 for "some entertainment" is much easier these days than it used to be.
What would you do as a passenger? as the airline? any other conclusions you can draw from this experience?